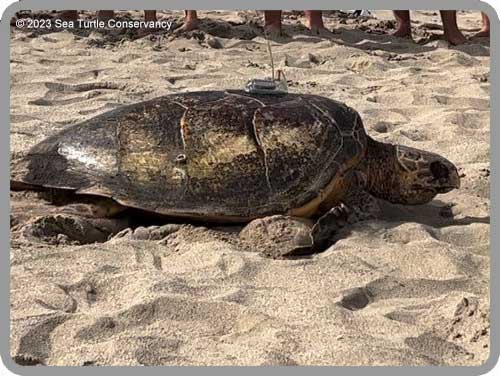 Toodles friends! Tippi's the name and awareness is the game! I'm totally tickled to be representing my friends at the Four Seasons Nevis in this year's Tour de Turtles. I love coming home to the island of Nevis to nest because my beach is so well cared for but I don't live here all the time. I travel a lot, which is why I am thrilled to share my Tour de Turtles journey with you. But island hopping isn't all fun and games. I'm here to raise awareness about a major threat to my favorite beaches—climate change. Because of climate change, sea levels are rising (causing nesting beaches to disappear), and water and sand temperatures are increasing. To battle this problem, humans can use energy-saving methods of transportation, plant vegetation along beaches to provide better nesting habitat, and use more solar or wind energy. Can I count you in??
I was named by my Sponsor, Four Seasons. Check out my marathon migration map, where you can follow along as I swim to raise awareness about the threat of Climate Change to sea turtles. Please help me raise awareness about my cause by supporting me!

Learn more about hawksbill sea turtles.