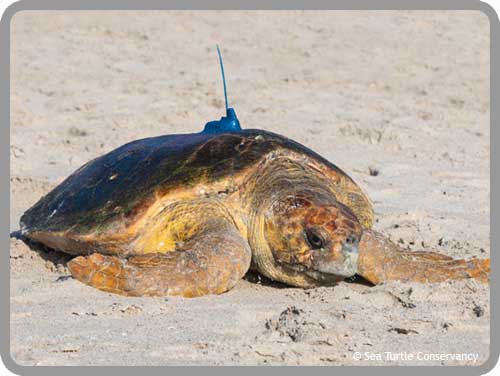 Hello darlings. You may call me Marigold Puddlefoot. The turquoise blue waters and pristine sandy beaches of the Archie Carr National Wildlife Refuge are my home, where I return year after year to nest. It's one of my favorite beaches in the world because it's so well-protected and clean, thanks in part to my friends at the Sea Turtle Conservancy and Gideon's Bakehouse. When they're not busy cooking up delicious treats, Gideon's Bakehouse is dedicated to supporting sea turtle conservation in Florida and I couldn't be more honored to represent them in this year's Tour de Turtles. With their support, I will race to raise awareness about the importance of Water Quality. Even if it isn't direct pollution, harmful toxins like fertilizer and pesticides are sneakily making their way towards the ocean. Help us keep Florida's water quality healthy by cheering me on in the Tour de Turtles. See you on the beach!
I was named by my Sponsor, Gideon's Bakehouse. Check out my marathon migration map, where you can follow along as I swim to raise awareness about the threat of Plastic Debris to sea turtles. Please help me raise awareness about my cause by supporting me!

Learn more about loggerhead sea turtles.