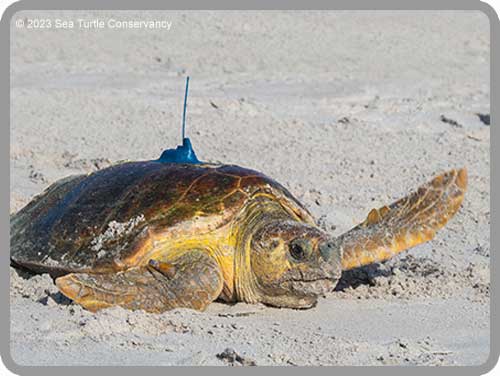 Greetings from regions beyond! Madame Leota is a mysterious loggerhead sea turtle who has been swimming these waters for a long, long time. Like her namesake, she has tapped into the spiritual energy of this realm and beyond and has picked up on some sympathetic vibrations that this could be her time to shine in the race called Tour de Turtles. However, she knows the race will not be without its challenges – navigating the seas has become much more treacherous, and it is harder than ever for a sea turtle to find food among the plastics in the ocean. Thankfully, there are some not-so-foolish mortals like the ones at Disney Cruise Line who are working hard to reduce single-use plastics and keep the waters clear. May the spirits guide her to victory!
I was named by my Sponsor, Disney Cruise Line. Check out my marathon migration map, where you can follow along as I swim to raise awareness about the threat of Coastal Armoring to sea turtles. Please help me raise awareness about my cause by supporting me!

Learn more about loggerhead sea turtles.