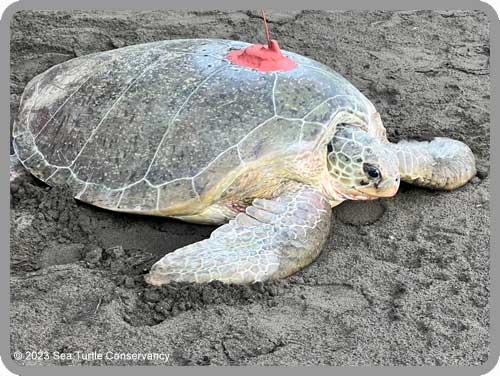 Como estas? Me llamo Mamacita! I am the ultimate turtle mom and faithfully return to Tortuguero every two years to nest on the black sand beaches. I have laid thousands of eggs over the years and do this because I know not all of them will survive and reach adulthood. STC does their best to protect my eggs and babies but there are people in some countries that illegally steal eggs. Did you know that people still consume sea turtle eggs for food? In some cultures, the eggs are served during special occasion or are considered an aphrodisiac, but I'm here to tell you that it's just not true! The only place my eggs need to be are in the sand, so that my hatchlings can grow healthy and strong before hatching and heading out to sea. With the help of my sponsors at cinder + salt, I'm swimming to raise awareness about this issue. I hope you'll cheer me on by following my journey!
I was named by my Sponsor, Cinder & Salt. Check out my marathon migration map, where you can follow along as I swim to raise awareness about the threat of Egg Harvest for Consumption to sea turtles. Please help me raise awareness about my cause by supporting me!

Learn more about green turtle sea turtles.