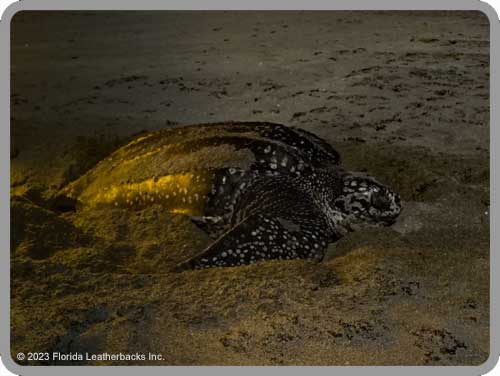 Hi friends! I'm Centennia! With the support of my fans and sponsors at Turtle, I have no doubt I will succeed in the Tour de Turtles race! While I'm swimming in the marathon, my goal is to teach everyone about the threat of light pollution. Lights from beachfront properties, or even street lights, can disorient nesting turtles like me and our hatchlings. You can learn more about light pollution on the Tour de Turtles website and find out how you can help make a difference. It really is easy! If you're vacationing at the beach, make sure to only stay at properties that have sea turtle friendly light fixtures, and always close your blinds or shades at night! It's also super important that you don't use a flashlight or phone if you're on the beach at night. With the help of my great and knowledgeable sponsors at Turtle, we can win this race and teach everyone about going "lights out" for sea turtles during nesting season!

I was named by my Sponsor, Turtle. Check out my marathon migration map, where you can follow along as I swim to raise awareness about the threat of Light Pollution to sea turtles. Please help me raise awareness about my cause by supporting me!

Learn more about leatherback sea turtles.