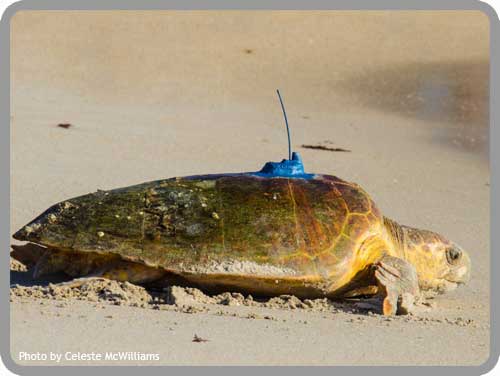 Oeru syaw fko Neytiri. That means, "My name is Neytiri" in Na'vi. I am a fierce fighter and will do whatever it takes to achieve my goals. And this year my goal is to win the Tour de Turtles migration marathon! I've been working hard keeping my sea turtle friends safe for many years and as I set off on my next big adventure, I could use your help keeping watch over things, especially my nest which I laid here in front of Disney's Vero Beach Resort. Our sea turtle clan will also have the support of the Disney Conservation Fund, who has promised to help in our mission to promote marine biodiversity and raise awareness about our threatened species. I feel confident leaving the fate of sea turtles in their capable hands. But now I must be off, as the competition begins! Sasya! "I'll rise to the challenge! I have confidence! I can do it!"
I was named by my Sponsor, Disney Conservation Fund. Check out my marathon migration map, where you can follow along as I swim to raise awareness about the threat of to sea turtles. Please help me raise awareness about my cause by supporting me!

Learn more about loggerhead sea turtles.
As we are getting close to end of the 2022 Tour de Turtles, please take a survey to let us know how we can improve.