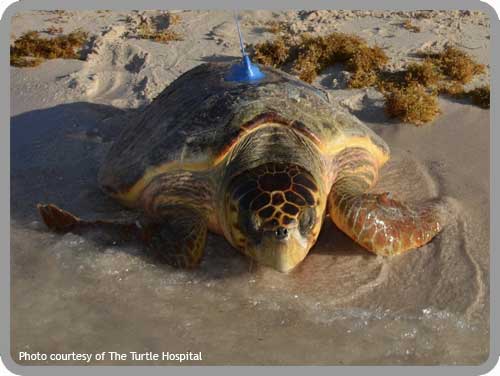 Hi friends! My name is Papa! I'm an extra special competitor because I'm the only male turtle in this whole thing! I was rescued offshore of Marathon, FL on Coffin's Patch by the US Coast Guard and The Turtle Hospital. I had been accidentally hooked by a recreational fisherman, ouch! My friends at The Turtle Hospital treated my fish hook wound but other than that I was strong, healthy and ready to go back home in no time! I'm participating in the Tour de Turtles to spread awareness about the dangers of Commercial Longline Fisheries, which can hook and entangle a lot of hungry loggerhead turtles like me. I would love to have your support in the race!
I was named by my Sponsor, The Turtle Hospital. Check out my marathon migration map, where you can follow along as I swim to raise awareness about the threat of Commercial Longline Fisheries to sea turtles. Please help me raise awareness about my cause by supporting me!

Learn more about loggerhead sea turtles.