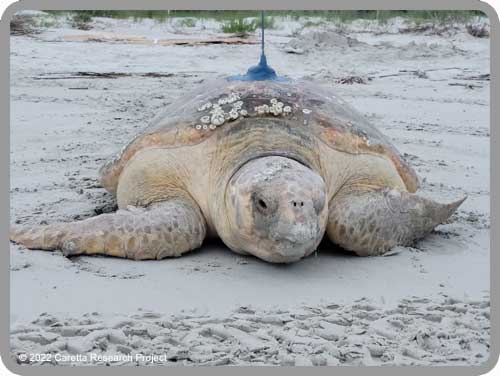 Hey there, I'm Troona! I'm the only turtle from Georgia participating in the Tour de Turtles and I was named by my friends at the Caretta Research Project. After I came ashore and laid 69 eggs, I was ready to take off on the first leg of the Tour de Turtles marathon. The only thing that can get in my way now is pesky plastic debris, yuck! Items like plastic water bottles, bags, straws and balloons can easily make their way into the ocean, where they break down into small pieces. Accidentally eating this plastic has caused the deaths of over 100 million of my marine animal friends. I certainly can't keep all these bad items from entering the ocean by myself so I need your help! Take reusable grocery bags to the store, skip the straw, never release balloons, and always pick up litter. I can't wait to see all my fans at the finish line!
I was named by the staff from the Caretta Research Project and sponosred by Sea Turtle Conservancy. Check out my marathon migration map, where you can follow along as I swim to raise awareness about the threat of Plastic Debris to sea turtles. Please help me raise awareness about my cause by supporting me!

Learn more about loggerhead sea turtles.
As we are getting close to end of the 2022 Tour de Turtles, please take a survey to let us know how we can improve.