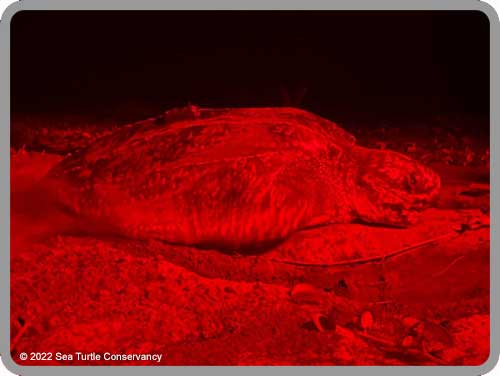 Oh hey! Almost didn't see you there! I'm Super. Rumor on the race circuit is that I'm super fast and super strong so all those other turtles better watch out! I already have more than 20 years of migration experience under my flippers and I'm prepared to leave my competition in the surf. Swimming fast is second nature to me, so I plan to also use my time in the race to raise awareness about a cause close to my heart, the dangers of longline fisheries. Even though I'm super big and fast, I don't stand a chance against human-made threats such as commercial longline fisheries. Each year, hundreds of thousands of adult and juvenile sea turtles are accidentally captured in fisheries. I've just been lucky that I haven't gotten stuck in one yet. To make sure sea turtles and other marine life don't get accidentally captured, it's important to only eat sustainably sourced seafood and support companies and countries that use Turtle Excluder Devices on their boats. I plan on swimming super far in a record time during this year's race and will spread the word about this important cause as I do. I sure hope you'll join me, I could use some more super fans!
I was named by my Sponsor, Supercell. Check out my marathon migration map, where you can follow along as I swim to raise awareness about the threat of Commercial Longline Fisheries to sea turtles. Please help me raise awareness about my cause by supporting me!

Learn more about leatherback sea turtles.
As we are getting close to end of the 2022 Tour de Turtles, please take a survey to let us know how we can improve.