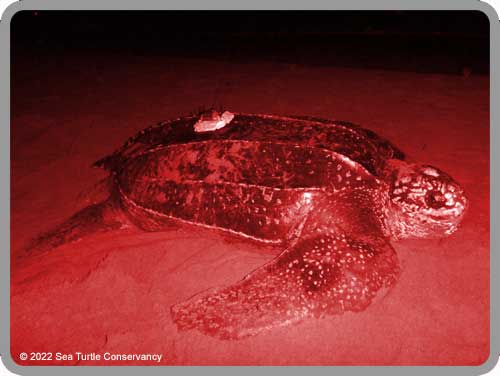 Hola! Mi nombre es CUper-ina II! My generous friends at Cobre Panama gave me my name and they're helping support me on my long journey from Panama to my foraging grounds! Oh, the places I will go… I may travel far and wide, but my favorite place will always be the beautiful tropical shores of Bocas del Toro. There is so much amazing native wildlife in Panama like sloths, monkeys, parrots, and more. But there are also animals near the beach that shouldn't be there, such as dogs, raccoons and wild boars. They come on the beach and dig up my nests and eat my eggs! You can make sure my nests stay safe next time you're at the beach by keeping all pets on a leash, picking up trash so it doesn't attract raccoons, and supporting spay and neuter programs to keep stray dog populations in check. Cobre Panama has also promised to help me raise awareness about invasive species predation, so we can put an end to this problem for good! Wish me luck, off I go!
Hola! Mi nombre es CUper-ina II!
¡Mis generosos amigos en Cobre Panamá me pusieron este nombre y me están ayudando en mi largo viaje desde Panamá hasta mis lugares de alimentación! ¡Oh!, los lugares a los que iré... Puede que viaje por todas partes, pero mi lugar favorito siempre serán las hermosas costas tropicales de Bocas del Toro. Hay tanta vida silvestre nativa increíble en Panamá como perezosos, monos, loros y más. Pero también hay animales cerca de la playa que no deberían estar allí, como perros y cerdos. ¡Vienen a la playa y desentierran mis nidos y se comen mis huevos! Puedes asegurarte de que mis nidos permanezcan seguros la próxima vez que estés en la playa, manteniendo a todas las mascotas con correa, recogiendo la basura para que no atraiga a los animales y apoyando los programas de esterilización para mantener a raya a las poblaciones de perros. Cobre Panamá también ha prometido ayudarme a crear conciencia sobre la depredación por especies invasoras, ¡para que podamos poner fin a este problema para siempre! ¡Deséenme suerte, me voy!
Fui nombrada por mi Patrocinador, Cobre Panamá. Echa un vistazo a mi mapa de migración del maratón, donde puedes seguir mientras nado para generar conciencia sobre la amenaza de la depredación por especies invasoras para las tortugas marinas. ¡Ayúdame a crear conciencia sobre mi causa, apoyándome!
I was named by my Sponsor, Cobre Panamá. Check out my marathon migration map, where you can follow along as I swim to raise awareness about the threat of Invasive Species Predation to sea turtles. Please help me raise awareness about my cause by supporting me!

Learn more about leatherback sea turtles.
As we are getting close to end of the 2022 Tour de Turtles, please take a survey to let us know how we can improve.