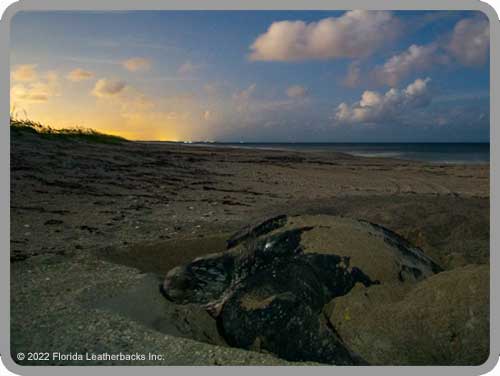 Hiya, I'm Pancake! STC calls me a "short stack" on account of the fact that I'm the smallest leatherback turtle that's ever competed in the Tour de Turtles. This was also my first season coming ashore to nest so you could say I've had a pretty exciting summer so far! I've been promised a giant breakfast buffet full of yummy jellyfish if I win the race. While some folks might prefer a cool glass of milk or OJ to go along with their meal, all I really want is some clean water. Is that too much to ask?! Poor water quality is a major threat to sea turtles like myself and other ocean creatures. Even if it isn't direct pollution, harmful toxins like fertilizer and pesticides are sneakily making their way towards the ocean and can enter my food supply. And I turn into a very grumpy turtle when people mess with my food. Luckily, I've teamed up with my friends at Fahlo who are going to help me spread the word about poor water quality during the race. Race you to the buffet—erm—finish line!
I was named by my Sponsor, fahlo. Check out my marathon migration map, where you can follow along as I swim to raise awareness about the threat of Water Quality to sea turtles. Please help me raise awareness about my cause by supporting me!

Learn more about leatherback sea turtles.
As we are getting close to end of the 2022 Tour de Turtles, please take a survey to let us know how we can improve.