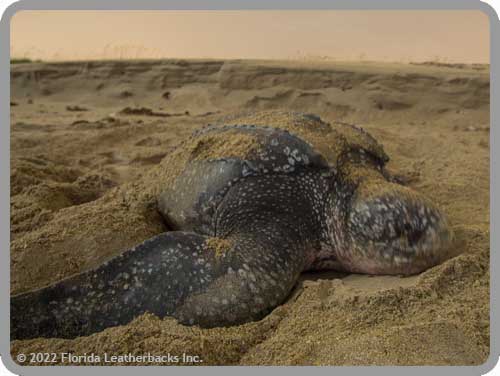 Ciao, bellas! My name is Truffle. After I'm done nesting, I plan to shuffle, shimmy, and shake my big body down the beach and into the water as fast as I can to win this marathon for all my supporters! While I'm out there swimming and giving it my all, my friends at STC and Shark Reef tasked me with raising awareness about a very serious threat called beach erosion. About 80 to 90% of America's sandy coastlines have been eroding for decades and almost half of Florida's nesting beaches are critically eroded. This is bad news for sea turtles like me, because the only place we can lay our eggs is on sandy beaches. You can help combat beach erosion by planting native dune vegetation on beaches and electing leaders who will address climate change and sea level rise. STC is keeping a close eye on things at home in Florida, so I think it's about time for me to put my flippers to the water and speed on out of here!
I was named by my Sponsor, Shark Reef. Check out my marathon migration map, where you can follow along as I swim to raise awareness about the threat of Beach Erosion to sea turtles. Please help me raise awareness about my cause by supporting me!

Learn more about leatherback sea turtles.
As we are getting close to end of the 2022 Tour de Turtles, please take a survey to let us know how we can improve.