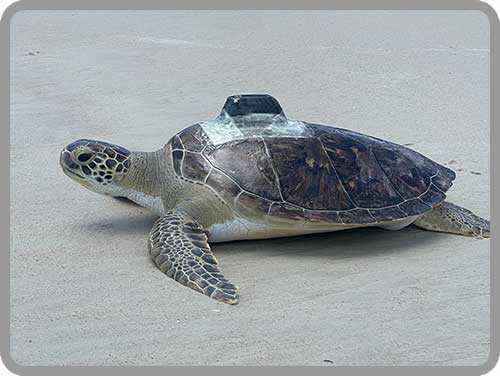 Hey pals! The name's Asparagus! I'm a juvenile green turtle and let me tell ya, it has not been easy being green! When I was rescued by the amazing folks at the Whitney Lab, 95% of my carapace was covered in epibiota, which means I was sick for a very long time. I had pneumonia and Fibropapilloma (FP) tumors on my right eye, neck, and all my flippers! It took weeks of intensive fluid therapy with vitamin supplements and a combination of antibiotics for my pneumonia to clear up. Then I had to have three tumor removal surgeries while in the care of UF Whitney Lab. But I'm excited to say I'm now tumor-tree and healthier than ever, and can't wait to get back out there and start exploring the local waterways! Hopefully the water is healthy so I don't end back up at the sea turtle hospital! I was very lucky to be rescued and receive excellent care but not all animals are so lucky. Clean water is crucial for sea turtles like me and my non-flippered friends. Make sure to cheer for me and spread the word to your friends!
I was named by my Sponsor, South Carolina DNR. Check out my marathon migration map, where you can follow along as I swim to raise awareness about the threat of Water Quality to sea turtles. Please help me raise awareness about my cause by supporting me!

Learn more about green turtle sea turtles.