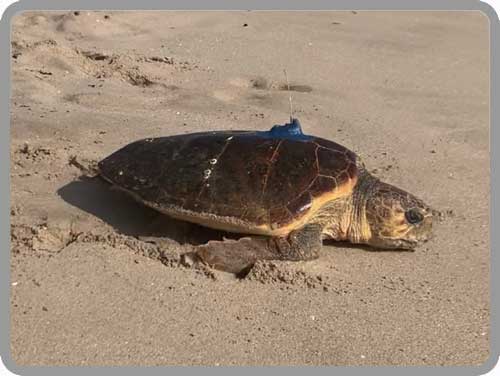 Hi! I'm Raya and I'm a loggerhead sea turtle! I LOVE adventure and Tour de Turtles is sure to be my biggest adventure yet! When I'm not swimming in marathons, my other interests include saving the world from things that can harm my fellow turtle friends, such as artificial light pollution. That's why I'm so excited that the Disney Conservation Fund has my back this year. Disney Conservation Team Wildlife helps protect turtles on the beach where I nested in Florida and they educate guests about how light pollution can disorient nesting and hatching sea turtles. With the help of Team Wildlife, I will do my very best to win this race and spread the word about the importance of sea turtle friendly lighting!
I was named by my Sponsor, Disney Conservation Fund. Check out my marathon migration map, where you can follow along as I swim to raise awareness about the threat of Light Pollution to sea turtles. Please help me raise awareness about my cause by supporting me!

Learn more about loggerhead sea turtles.