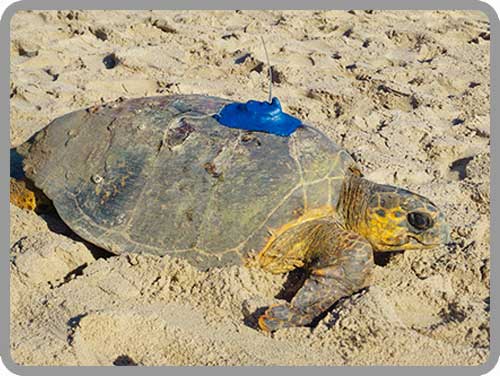 My name's Coral and I'm ready to get this party started! My sponsors at tarte cosmetics tell me that I'm the prettiest turtle they've ever seen! I may be on the smaller side but what I lack in size I make up for in personality! Some people might say I'm feisty, but I like to say I'm determined… Determined to win the Tour de Turtles race and to spread the word about the dangers of oil spills and marine pollution. I've primped and powdered my shell and can't wait to show everyone how great I look when I make my Tour de Turtles debut. Even though everyone will probably be busy admiring my beauty, I hope they also take the time to learn about the threat of oils spills and marine pollution during my migration. I only use all-natural products on my shell, so I definitely don't want to swim through any water that's polluted with chemicals from fertilizers or factories
I was named by my Sponsor, tarte. Check out my marathon migration map, where you can follow along as I swim to raise awareness about the threat of Oil Spills to sea turtles. Please help me raise awareness about my cause by supporting me!

Learn more about loggerhead sea turtles.