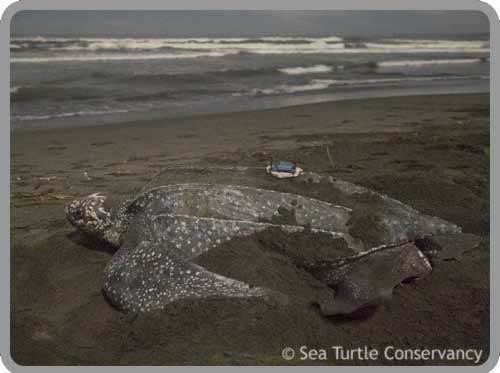 Que tal amigos? Me llamo CUper-ina! My interests include marathon training and trying to bulk up in the off-season by eating lots of jellyfish. And while training for the Tour de Turtles certainly is hard work, you know what else is hard? Dragging this big, beautiful body up the beach to nest! Then I have to find the perfect spot to body pit, dig the egg chamber just right, lay my eggs, and finally drag all 800 lbs of myself back to the water. Even after all of this work, some creatures that don't belong there—like dogs, raccoons, and wild boars—have the NERVE to dig up the nest I just spent so much time and effort on! You can make sure all of my work doesn't go to waste next time you're at the beach by keeping all pets on a leash, picking up trash so it doesn't attract raccoons, and supporting spay and neuter programs to keep stray dog populations in check.
I was named by my Sponsor, Cobre Panamá. Check out my marathon migration map, where you can follow along as I swim to raise awarness about the threat of Invasive Species Predation to sea turtles. Please help me raise awareness about my cause by supporting me!

Learn more about leatherback sea turtles.