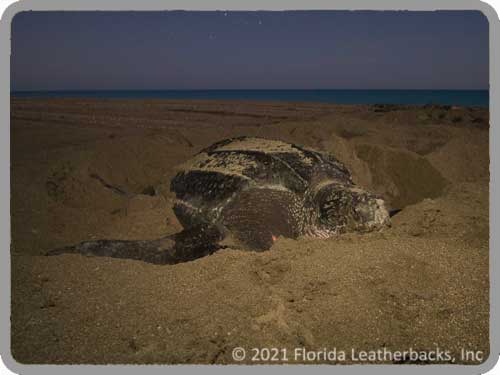 What's up guys! My name is Carrie. I just returned from the most amazing trip and boy does it feel good to be back on my home nesting beach here in Florida. My friends at Florida Leatherbacks, Inc. called me on my shell-phone to see if I'd be interested in participating in the Tour de Turtles marathon. They knew how much I loved to swim and the travel the globe so naturally I was the perfect competitor! Some of my favorite places to travel include up and down the east coast of the United States because there are lots and lots of jellyfish to eat! I've been very fortunate during my travels to avoid any boat strikes but sadly not all turtles are so lucky. I couldn't believe how many boats I had to dodge during the summer months and especially on holidays! That's why I plan to educate as many people as I can during the Tour de Turtles about safe boating practices and the dangers of boat strikes. So, where should I travel next? I'm thinking Canada or Nova Scotia!
I was named by my Sponsor, Florida Leatherbacks, Inc.. Check out my marathon migration map, where you can follow along as I swim to raise awareness about the threat of Boat Strikes to sea turtles. Please help me raise awareness about my cause by supporting me!

Learn more about leatherback sea turtles.