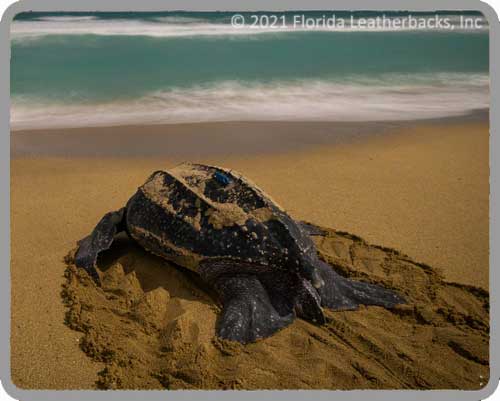 Ciao darlings, you can call me Vesper. I was born many years ago on a dark and stormy night, which is how I prefer the beach to be when I come ashore to nest, under the cover of darkness. When I found out my next mission was to compete as a contestant in the Tour de Turtles, I couldn't hide my excitement. While my marathon training routine remains top secret, I can tell you that I have the support from some top notch sponsors at Wildlife Collections. With their help I'm ready to take down the competition and destroy my enemies, including the biggest enemy of all, light pollution! I expect a jellyfish martini to be waiting for me at the finish line but please make sure it's "shaken not stirred."
I was named by my Sponsor, fahlo. Check out my marathon migration map, where you can follow along as I swim to raise awareness about the threat of Light Pollution to sea turtles. Please help me raise awareness about my cause by supporting me!

Learn more about leatherback sea turtles.