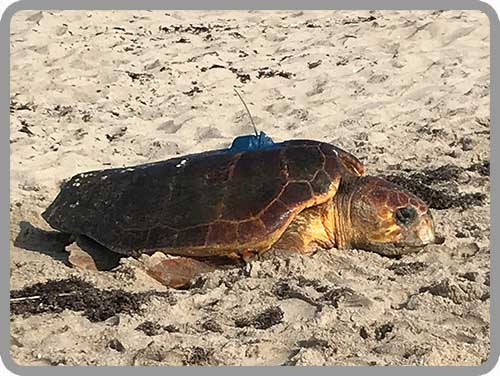 Hiya! I'm PopTart! While I prefer a savory breakfast of crabs and mussels, my personality is super sweet and my shell even had some "frosting" of its own, in the form of bioluminescence, which I was covered in after I came out of the water to nest on my home beach in Florida. Even though I return to Florida to nest every two years, I love to travel during the off-season. Something I've started to see during my travels that really concerns me are commercial trawl fisheries. Trawl fisheries are big boats that drag giant nets behind them, catching all kinds of creatures. What if I got tangled up in one of these nets during the Tour de Turtles?! Then I wouldn't even be able to finish the race! I'd hate to disappoint my fans and sponsors at Wildlife Collections. To make sure turtles like me don't get trapped in these dangerous nets, it's important to make sure your seafood is sustainably sourced and to support companies and countries that use Turtle Excluder Devices (TEDs) on trawl boats. That way, I can continue living my dream and traveling the globe! If I win this whole thing, I'll treat everyone to a nice breakfast buffet of some sustainable seafood! Doesn't that sound yummy?!
I was named by my Sponsor, fahlo. Check out my marathon migration map, where you can follow along as I swim to raise awareness about the threat of Commercial Trawl Fisheries to sea turtles. Please help me raise awareness about my cause by supporting me!

Learn more about loggerhead sea turtles.